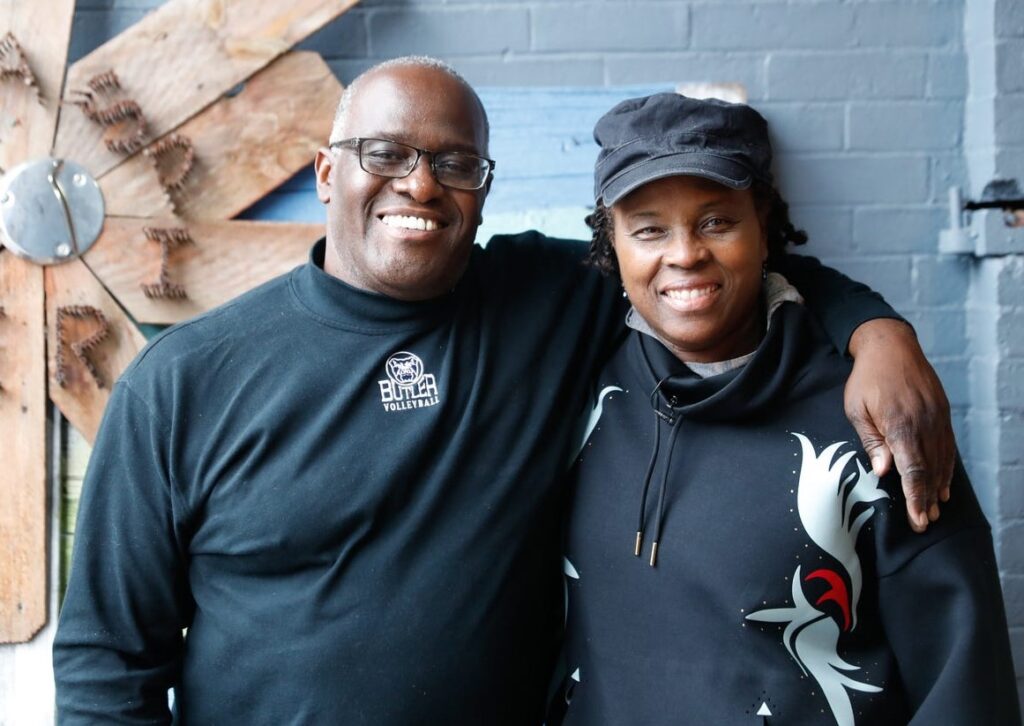 The Clarks moved to Indianapolis from California in pursuit of job opportunities in the spring of 2000. Their son, Myles, 19 was born in Indianapolis. Sharon became the new head women's volleyball coach at Butler University, a position that she still holds. Tim joined the staff at the National Collegiate Athletic Association's headquarters as an Assistant Director, Education Outreach.
An accomplished collegiate coach having served as a head coach at University of California-Davis and Humboldt State University (CA). At UC Davis, Sharon led the program to two Northern California Athletic Conference championship titles, an appearance in the NCAA Division II Championship and her student-athletes achieving success in the classroom.
In her 20th season at the helm of the Butler volleyball program, Sharon has directed teams to winning conference championships, participation in the NCAA Tournament and producing five All-American players, and one BIG EAST Freshman of the Year and three All-Horizon League Players. Sharon is currently the President of the American Volleyball Coaches Association.
As a person of color in a non-traditional sport, Sharon has established herself as someone for other minorities interested in coaching volleyball to emulate. She has worked hard to introduce the sport of volleyball to youth and help young coaches who are new to collegiate athletics. Sharon has served as speaker for numerous NCAA and USA Volleyball conferences and events geared toward the development of student-athletes and coaches. Her passion is helping others in sport, and in communities through her work, volunteerism, community development initiatives, and other ventures.
Tim shares a similar passion and background in sports. Prior to his move to Indianapolis, Tim started his professional career as a collegiate coach in the sports of lacrosse and football. He coached at The College of Wooster (OH) as both a head lacrosse coach and assistant football coach and Bucknell University (PA) as an assistant lacrosse coach. Tim also grew up as a minority participating in a predominately white sport, lacrosse being his sport of choice. His love for the game and success as a player on four NCAA Division III Championship teams, motivated him to introduce others to the sport.
In pursuit of a way to help others on a larger scale and help young people overall, Tim has served on the staff of the NCAA, National Collegiate Athletic Association, Indiana Youth Institute, and Indiana Commission for Higher Education. Currently, Tim is a Grant Officer for Partner Outreach with Simon Youth Foundation, a national 501c(3) that partners with public school districts across the country to help at-risk students to obtain their high school diploma. In his role overseeing the Programs area, Tim manages the partnerships with the schools, companies who provide workforce development opportunities for students, scholarship programs, grant program and other resources to support students in obtaining their diploma.
The Clarks are devoted to providing young people and communities with opportunities for success.
BOARD OF DIRECTORS – ASPIRE HIGHER FOUNDATION
A HUGE THANK YOU TO OUR CONTINUAL
SUPPORTERS AND VOLUNTEERS:
Xi Sigma Alumni Chapter of Phi Beta Sigma