The Clarks moved to Indianapolis from California in pursuit of job opportunities in the spring of 2000. Their son, Myles, 19 was born in Indianapolis. Sharon became the new head women's volleyball coach at Butler University, a position that she still holds. Tim joined the staff at the National Collegiate Athletic Association's headquarters as an Assistant Director, Education Outreach.
An accomplished collegiate coach having served as a head coach at University of California-Davis and Humboldt State University (CA). At UC Davis, Sharon led the program to two Northern California Athletic Conference championship titles, an appearance in the NCAA Division II Championship and her student-athletes achieving success in the classroom.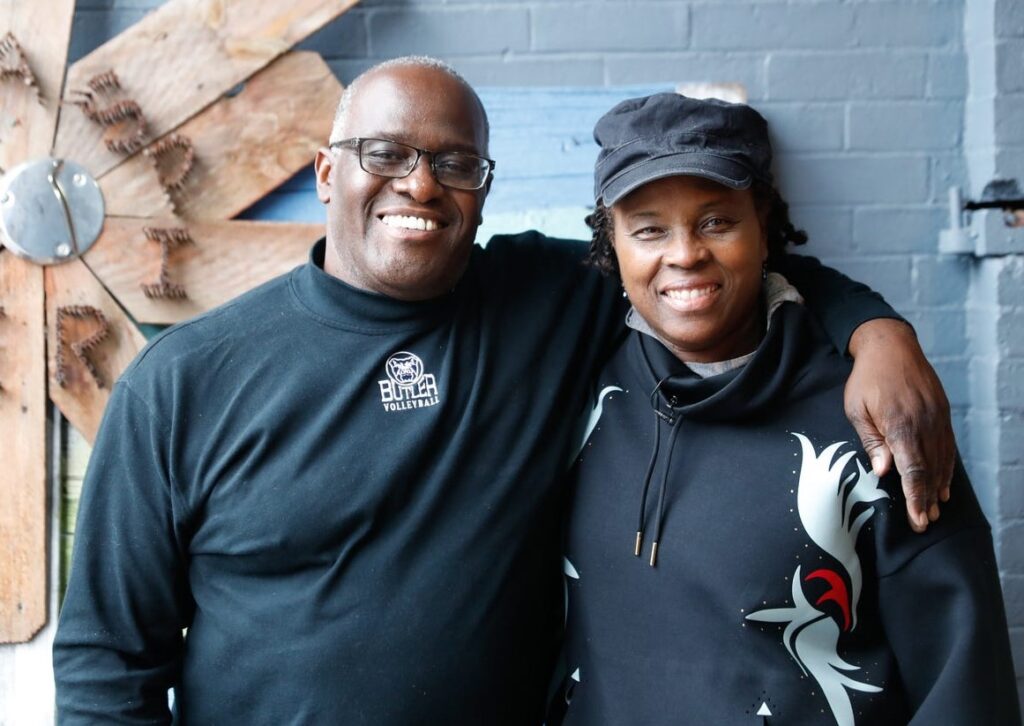 In her 20th season at the helm of the Butler volleyball program, Sharon has directed teams to winning conference championships, participation in the NCAA Tournament and producing five All-American players, and one BIG EAST Freshman of the Year and three All-Horizon League Players. Sharon is currently the President of the American Volleyball Coaches Association.
As a person of color in a non-traditional sport, Sharon has established herself as someone for other minorities interested in coaching volleyball to emulate. She has worked hard to introduce the sport of volleyball to youth and help young coaches who are new to collegiate athletics. Sharon has served as speaker for numerous NCAA and USA Volleyball conferences and events geared toward the development of student-athletes and coaches. Her passion is helping others in sport, and in communities through her work, volunteerism, community development initiatives, and other ventures.
Tim shares a similar passion and background in sports. Prior to his move to Indianapolis, Tim started his professional career as a collegiate coach in the sports of lacrosse and football. He coached at The College of Wooster (OH) as both a head lacrosse coach and assistant football coach and Bucknell University (PA) as an assistant lacrosse coach. Tim also grew up as a minority participating in a predominately white sport, lacrosse being his sport of choice. His love for the game and success as a player on four NCAA Division III Championship teams, motivated him to introduce others to the sport.
In pursuit of a way to help others on a larger scale and help young people overall, Tim has served on the staff of the NCAA, National Collegiate Athletic Association, Indiana Youth Institute, and Indiana Commission for Higher Education. Currently, Tim is a Grant Officer for Partner Outreach with Simon Youth Foundation, a national 501c(3) that partners with public school districts across the country to help at-risk students to obtain their high school diploma. In his role overseeing the Programs area, Tim manages the partnerships with the schools, companies who provide workforce development opportunities for students, scholarship programs, grant program and other resources to support students in obtaining their diploma.
The Clarks are devoted to providing young people and communities with opportunities for success.
Board of Directors – Aspire House Foundation
President
Tim and his wife Sharon share a passion for community development and urban renewal. Tim is the Chief Operating Officer and Master Laborer of the Aspire Brand. He is employed with Simon Youth Foundation as a Grant Officer, Partner Outreach.
Non-voting Member
Head Women's Volleyball Coach at Butler University, Sharon is a social entrepreneur whose life goal is to use her love of design and commitment to community uplift to build artistic residential affordable housing in declining neighborhoods. She is the visionary, and Chief Inspiration Officer of the Aspire Brand.
Secretary
Owner of September 9 Media, Terhea is a resident of Central Maryland. She has worked as a writer, research manager, corporate trainer and expert strategist for over 30 years. She serves the Brand as a grant researcher, creative writer and marketing professional.
Chair of Aspire Higher Foundation Real Estate Development
Michael Rodriques has more than 30 years of experience in the commercial real estate industry specifically focused on development and construction. At Simon Property Group, he is Vice President, Project Management and is responsible for the management of large-scale re-developments with a focus on mixed-use assets including office, retail, residential and entertainment uses. Prior to Simon, Mr. Rodriques served as Senior Director of Development for General Growth Properties where he was responsible for the conception and deployment of re-development strategies to maximize the income potential of existing regional shopping centers. He conducted comprehensive asset evaluations and formulated re-positioning strategies that included the addition of other uses such as hotels, office and residential. Mr. Rodriques has also served as Vice President and Principal of The Greeby Companies where he provided Owner's Representative services to clients such as Simon Property Group, The Taubman Company, Alberta Development, General Growth Properties, JC Penney and The Staubach Company (now SRS Real Estate Partners).
Member
Athletic Director, Henry Ford College, Rochelle is a resident of Detroit. Rochelle has worked extensively with colleges, national organizations, and international governments. Rochelle's career includes extensive work in athletics administration. A former Indianapolis resident, she lends much organization development expertise to the Aspire House Brand.
Member
Vice-President, Community Engagement, Pacers Sports and Entertainment. Corey is committed to civic leadership. Aspire House sits in the neighborhood where his mother owned a business during his childhood. An Indianapolis native, Corey brings a wealth of contacts to the Aspire House Brand.
Member
Butler University graduate, 20+ years experience running a marketing business she founded. Expertise in property management, and a member on several Butler University boards and fundraising groups.
Member
Senior Director of Talent, The Mind Trust. Since 2007, Sara has worked in K-12 education as a teacher, teacher coach, and non-profit leader. She currently works to increase, develop and retain outstanding diverse educators within Center Township. In her board role, Sara brings insights into child development, school partnerships, and community programming.
Member
Deidre M. Pettinga, Ph.D. has more than thirty years of marketing experience which runs the spectrum from applied to theoretical. On the applied side, she served as Chief Marketing Officer for the American Camp Association, Vice President of Client Services for a marketing software company, Research Director for a CBS television affiliate, Marketing Director for a regional restaurant chain, and Account Executive and Media Buyer for an advertising agency. She has also consulted with a number of regional and national for-profit and non-profit organizations. Currently, she serves as Director of Operations and Communications for the Indiana Forest Alliance. Her theoretical experience includes ten years as an Assistant Professor of Marketing at the University of Indianapolis, and four years as an adjunct marketing faculty member at Butler University. Dr. Pettinga earned a B.S. and M.B.A. from Butler University, Indianapolis, IN, and an M.A. and Ph.D. in Media Psychology from Fielding Graduate University, Santa Barbara, CA. She has presented to numerous business, civic, and education organizations, including the Indiana Center for Family, School & Community Partnerships, the Marketing Management Association, the American Camp Association, and the Indiana Conference of the United Methodist Church. Her scholarly work includes serving on the editorial review board for the European Journal of Marketing, publishing research articles in the Journal of Academic Administration in Higher Education, the Journal of the Academy of Business Education, and the International Journal of Motorsport Management, and co-authoring four books on K-12 educational marketing. She is married with two sons and lives in Indianapolis.
Member
An attorney since 1985. Practices with Blackwell, Burke & Ramsey, PC. 101 West Ohio Street, Suite 1700, Indianapolis, In., 46204. Adjunct Professor with Indiana University Robert H. McKinney School of Law teaching Secured Transactions. Practice specializing in Commercial Transactions, Small Business Counseling, Litigation, and Commercial Lending.
Member
A northwest resident for 46 years. Married, 2 daughters, 4 grands and 3 great-grands. A recent retiree from IUHealth/FHFCU. Hobbies include crocheting, gardening, and travel. Current involvement includes co-chair for Northwestlanding.org, a board member with Indy Shakes, and the DipIn steering committee.
Member
Art Kodroff is the Controller for the Capital Improvement Board. He is originally from Philadelphia but has lived in Indiana for over 40 years. Art has served on the board of a number of Indianapolis non-profits including Teachers' Treasures, Pathway to Recovery, and Business Ownership Initiative of Indiana and is active in the Butler University Alumni Association. He's a CPA, earned his undergraduate degree from Butler University and has an MBA from Indiana University. He and his wife Sandy live in Fishers with their golden doodle puppy, Maggie. Art's hobbies include golf, cycling, and occasional running events. He's an avid fan of the Pacers, Colts, Philadelphia Phillies, and all things Butler.
Member
Kevin Speer is a transformational leader with a healthcare career spanning 30 years. He is a graduate of Purdue University and Valparaiso University School of Law. As President & CEO of Hendricks Regional Health since 2012, Kevin leads a nationally recognized, nonprofit health system in Central Indiana that includes two acute care hospitals and six outpatient medical centers. Kevin is a recipient of the Purdue Distinguished Alumni Award, Distinguished Eagle Scout Award and the Indiana Sports Corp Difference Maker Award. Most recently, he was presented the 2019 Specialty Care Award by the Indiana Fire Chiefs Association for his work with community paramedicine. He and his wife, Kim, live in Brownsburg and have two sons: Eric and Cole.
A HUGE THANK YOU TO OUR CONTINUAL
SUPPORTERS AND VOLUNTEERS:
Xi Sigma Alumni Chapter of Phi Beta Sigma